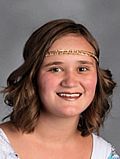 The Utah State Office to Education recently announced the winners of the state's 31st annual Martin Luther King, Jr. essay and video contest. Secondary school students from throughout the state are annually invited to submit essay or video entrees based on civil rights themes to the contest which is judged by volunteers from the Utah State Office of Education and school districts.
Essay and video contest winners for each grade level (seven through 12) win $50, though the overall junior high (grades seven through nine) and senior high school (grades 10 through 12) win $150. The students will also be honored with a luncheon on Jan. 14 at the Davis School District Office in Farmington. There were 475 essay entries and 15 video entries in 2014.
Vista Heights eighth grader, Haylee Tuttle, along with 3 other students from around the state were named individual grade winners for their essay.
Congratulations, Haylee!  We are proud of your effort and achievement!